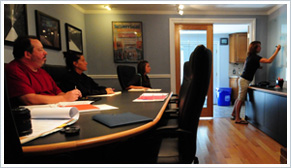 Independent Consultants for Electronic Security Projects & Products.
R. Grossman & Associates is an independent consulting firm specializing in project- and product-based work in the electronic security industry. We are also recognized subject matter authorities available to provide analysis, recommendations, advice and expert testimony for problem resolution.
Full-Time Staff of Industry Experts
Our full-time staff of five has years of hands-on experience working in the industries we now serve. A thorough understanding of industry-specific best practices, first-hand knowledge of available electronic security products and technologies, security industry contacts and a healthy amount of common sense combine to give you field-proven, unbiased, expert advice and guidance.
We won't always tell you what you want to hear, but you can count on always hearing what you need to know.
No Conflicts of Interest
We have no ties to manufacturers or integrators and no financial stakes in any product. We are product- and channel-agnostic. While we maintain excellent relationships with all of the major electronic security manufacturers, we disclose all such relationships and we do no accept compensation from any manufacturer or integrator on any project. When a potential conflict arises, we will bring it to your attention immediately. We represent your best interests and work solely on your behalf. It only works if it works for you.
Fee-Based Services
As consultants, our services are fee-based. Years of on-the-job experience enable us to design and specify systems accurately and competitively to save you time, money, and aggravation. Thanks to prudent product selection and price negation, our clients typically realize savings that more than offset our fees, particularly on larger projects.


We are members in good standing with these professional organizations and hold these licenses and association memberships:
Better Business Bureau of New Jersey
Construction Specifiers Institute
Security Industry Association (SIA)
We are registered or certified by these organizations:
Shakopee Mdewakanton Sioux Community Gaming Commission, registration #03-020
Nottawaseppi Huron Band of the Potawatomi Gaming Commision, certificate #NG-09-002
Pennsylvania Gaming Control Board, certificate #VC-26217-2
New Jersey Public Works Contractor Registration Act, since 03/31/08
Certified Wildlife Habitat of the National Wildlife Federation, certificate #121,068