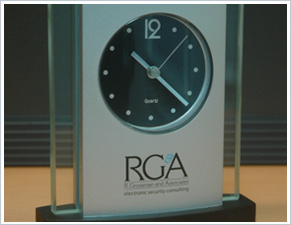 Custom Electronic Security Solutions for Business & Industry
We're a client-centric company focused on building long-term strategic relationships. We use every tool available to us – our training, experience, industry contacts and common sense – to understand your needs and recommend the right electronic security design or product to meet your particular requirements. We stay on your job until it's done to best practices standards and your satisfaction. And we'll be around to answer any questions and address any concerns after the work is done.
Areas of specific expertise include project- and product-based electronic security solutions for:
Court Houses & Correctional Facilities
Cruise Ships
Education
Gaming
Office Buildings
Parking Structures
Postal Facilities
Remote Sites
Retail Malls
Sports Arenas
Waste Water Treatment Plants
Taking Care With Your Secrets
We maintain ongoing relationships with past, present and potential clients, bringing them together whenever we feel they have product lines or services that are complementary. We believe everyone benefits from this network, but we also appreciate that some of our clients are in competition. Be assured that we take extreme care with your secrets. We can provide our own non-disclosure agreements or work with documents you provide. For more specific references, including contact names and project information, please contact us.
Client Portfolio
To maintain confidentiality and security, we have not outlined the scope of work provided for the clients shown here. If you would like more detailed or specific references, including contact names and project information, please contact us.
Click here to read testimonials from our clients.
Bristol-Myers Squibb is on a mission to extend and enhance human life by providing the highest quality pharmaceuticals and health care products.
BuyerZone is the leading provider of purchasing tools and advice for more than 140 critical business purchases, including helping small and mid-sized businesses find qualified suppliers for video surveillance, access control systems, business security systems and home security systems.
City of Asbury Park is located in Monmouth County, New Jersey and has a population of about 16,500. Widely known for its rich musical history, the city is currently in the midst of a redevelopment effort.
Click2Enter provides modified scanner/radio technology to give public safety agencies a quick, safe, reliable and stealthy means to activate gates, bollards, doors or any security control mechanism.
County of Essex is the second largest in New Jersey by population. It includes three of the nation's major transportation centers. It owns, operates and maintains more than 51 buildings totaling more than 2.3 million square feet, 366 bridges and culverts and over 200 miles of roadways.
Crystal Cruises currently operates two luxury cruise liners and is owned by Tokyo-based Nippon Ysen Kaisha, the world's largest shipping company with over 800 ships and offices worldwide.
Egg Harbor Township School District in New Jersey has created a technology-rich environment to prepare students to be life-long learners in the 21st century's information society.
DDR Corp. (formerly Developers Diversified Realty, Inc.), headquartered in Beachwood, Ohio is a publicly traded real estate investment trust that invests in shopping centers. The company owns interests in 317 shopping centers in 35 states in the United States and Puerto Rico.

RG&A has worked with over 100 malls and shopping centers for a number of clients, including DDR.
FireKeepers Casino is a 236,000-square-foot gaming casino located in Battle Creek, Michigan. In addition to its gaming facilities, FireKeepers includes a dance club, sports bar and five restaurants.
Forest City Realty Trust, Inc.is real estate investment trust that invests in office buildings, shopping centers, and apartments in Boston, Chicago, Dallas, Denver, Los Angeles, Philadelphia, and the greater metropolitan areas of New York City, San Francisco, and Washington, D.C. The company is organized in Maryland with its headquarters in Cleveland, Ohio. As of December 31, 2017, the company owned 29 office buildings, 29 shopping centers, and 78 apartment complexes.

RG&A has worked with over 100 malls and shopping centers for a number of clients, including Galleria At Sunset (Las Vegas) for Forest City.
Foxwoods Resort Casino has offered guests The Wonder Of It All as the premier resort destination in the Northeast since 1992. As the largest resort casino in North America, Foxwoods offers a vast array of gaming in seven casinos; AAA Four-Diamond hotels, restaurants from gourmet to quick service, world-renowned spas, award-winning golf, state-of-the-art theaters, exclusive retailers, and free-to-play online casino games at FoxwoodsONLINE.com. Perfect for both recreation and business, Foxwoods provides modern and versatile convention and meeting space to infuse new life into any meeting or event. Foxwoods Resort Casino is owned and operated by the Mashantucket Pequot Tribal Nation.
Full House Resorts, Inc., a casino gaming company, develops, owns, operates, and manages casinos and related hospitality and entertainment facilities in regional U.S. markets. Based in Las Vegas, Full House operates five casino facilities in Mississippi, Indiana, Nevada, and Colorado. Each of their gaming properties reflects a unique atmosphere custom-designed for each regional market.
Hamilton Mall Mays Landing is the largest indoor mall in all of New Jersey's Atlantic and Cape May Counties. They boast over 100 stores and restaurants, bars and pubs, an international food court, an indoor play area, and even a custom-made Deep-Sea Carousel.

RG&A has worked with over 100 malls and shopping centers for a number of clients. Hamilton Mall was our second and is just one example.

Click here to view the case study.
Intel, the world leader in silicon innovation, develops technologies, products, and initiatives to continually advance how people work and live. Founded in 1968 to build semiconductor memory products, Intel introduced the world's first microprocessor in 1971.
King of Prussia Mall Featuring a diverse mix of over 450 stores including Nordstrom, Macy's, Neiman Marcus, Bloomingdale's, Lord & Taylor, Primark and Dick's Sporting Goods, and a collection of luxury retailers unsurpassed in the region, King of Prussia is one of the most iconic malls in the nation.

RG&A has worked with over 100 malls and shopping centers for a number of clients. King of Prussia was our first and is just one example.
Madison Marquette offers leasing, property management, investment management and development services, combined with specialized development, investment and marketing expertise. The company provides leasing and management services to a diverse portfolio of 330 assets in 24 states and manages an investment portfolio valued at over $6 billion. Headquartered in Washington, DC, with a major presence in Houston, TX, Madison Marquette employs 600 professionals in 13 regional markets and is a member of the Capital Guidance group of companies.

RG&A has worked with over 100 malls and shopping centers for a number of clients, including several for Madison Marquette.

Mystic Lake Casino Hotel has 24/7 gaming action with nearly 4,000 slots, 100 blackjack tables, and a 600-seat bingo hall on one of the Midwest's largest gaming floors. Party every weekend at The Meadows Bar and Grille and see today's biggest stars shine in the 2,100-seat Mystic Showroom®. Pamper yourself in one of 766 luxurious hotel rooms and suites, take a dip in the indoor atrium pool, tee off on an award-winning championship golf course, plan a spa day, and visit distinctive bars and restaurants. Just 25 minutes from Minneapolis, Mall of America, and the Minneapolis-St. Paul International Airport.

Click here to view the case study.
Odawa Casino Resort has 1,500 ticket-in/ticket-out slots, 36 table games, over 100 plasma screen TVs and multiple dining options.

Click here to view the case study.
Presque Isle Downs and Casino opened in 2007 with 2,000 slot machines, four lounges and three dining areas. The facility is open year-round.
Roche Diagnostics is part of one of the world's leading research-oriented healthcare organizations - the Roche Group. Active in the fields of pharmaceuticals and diagnostics, Roche develops innovative products and services that address the prevention, diagnosis and treatment of diseases, thus enhancing well being and quality of life.
Simon Property Groupis a global leader in the ownership of premier shopping, dining, entertainment, and mixed-use destinations and an S&P 100 company (Simon Property Group, NYSE:SPG). Their properties across North America, Europe, and Asia provide community gathering places for millions of people every day and generate billions in annual sales.

RG&A has worked with over 100 malls and shopping centers for a number of clients and have been the electronic security consulting firm for Simon since 2008.
United States Postal Service chose RG&A to deliver consulting services for their closed circuit television and digital video surveillance systems.
USDA Forest Service celebrates a century of service caring for our nation's forests and grasslands. RG&A provides Help Desk services to the USDA Forest Service.
Verizon Communications Inc. is one of the world's leading providers of communications services with more than $125 billion in annual revenue.
Village of Schaumburg is a well-known northwestern suburb of Chicago and recognized by many in our industry as the former home of Motorola. With a population of just under 75,000 residents, Schaumburg was recently ranked as the best place to live in Illinois (2018) and the 9th best place to live in the United States (2017) by Money Magazine.

Click here to view the case study.
Winsted offers a broad line of technical furniture including standard rack cabinets, consoles, command centers, LAN/server stations and tape/media storage cabinets.