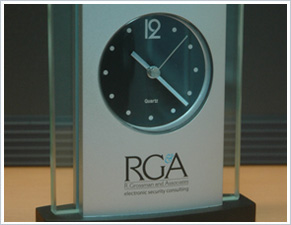 Custom Electronic Security Solutions for Business & Industry
We're a client-centric company focused on building long-term strategic relationships. We use every tool available to us – our training, experience, industry contacts and common sense – to understand your needs and recommend the right electronic security design or product to meet your particular requirements. We stay on your job until it's done to best practices standards and your satisfaction. And we'll be around to answer any questions and address any concerns after the work is done.
Areas of specific expertise include project- and product-based electronic security solutions for:
Court Houses & Correctional Facilities
Cruise Ships
Education
Gaming
Office Buildings
Parking Structures
Postal Facilities
Remote Sites
Retail Malls
Sports Arenas
Waste Water Treatment Plants
Taking Care With Your Secrets
We maintain ongoing relationships with past, present and potential clients, bringing them together whenever we feel they have product lines or services that are complementary. We believe everyone benefits from this network, but we also appreciate that some of our clients are in competition. Be assured that we take extreme care with your secrets. We can provide our own non-disclosure agreements or work with documents you provide. For more specific references, including contact names and project information, please contact us.
Client Portfolio
To maintain confidentiality and security, we have not outlined the scope of work provided for the clients shown here. If you would like more detailed or specific references, including contact names and project information, please contact us.
Click here to read testimonials from our clients.
Bristol-Myers Squibb is on a mission to extend and enhance human life by providing the highest quality pharmaceuticals and health care products.
BuyerZone is the leading provider of purchasing tools and advice for more than 140 critical business purchases, including helping small and mid-sized businesses find qualified suppliers for video surveillance, access control systems, business security systems and home security systems.
City of Asbury Park is located in Monmouth County, New Jersey and has a population of about 16,500. Widely known for its rich musical history, the city is currently in the midst of a redevelopment effort.
Click2Enter provides modified scanner/radio technology to give public safety agencies a quick, safe, reliable and stealthy means to activate gates, bollards, doors or any security control mechanism.
County of Essex is the second largest in New Jersey by population. It includes three of the nation's major transportation centers. It owns, operates and maintains more than 51 buildings totaling more than 2.3 million square feet, 366 bridges and culverts and over 200 miles of roadways.
Crystal Cruises currently operates two luxury cruise liners and is owned by Tokyo-based Nippon Ysen Kaisha, the world's largest shipping company with over 800 ships and offices worldwide.
Egg Harbor Township School District in New Jersey has created a technology-rich environment to prepare students to be life-long learners in the 21st century's information society.
FireKeepers Casino is a 236,000-square-foot gaming casino located in Battle Creek, Michigan. In addition to its gaming facilities, FireKeepers includes a dance club, sports bar and five restaurants.
Foxwoods operates six casinos with more than 6,400 slot machines, 354 table games and the world's largest bingo halls; resort accommodations with more than 1,400 rooms and suites; and first-class on-premises shopping.
Full House Resorts, Inc., a casino gaming company, owns, develops and manages gaming facilities. The company currently owns the Stockman's Casino in Fallon, Nevada, and manages FireKeepers Casino in Battle Creek, Michigan under an agreement with the Nottaswaseppi Huron Band of Potawatomi Indians.
Hamilton Mall in Atlantic City consists of more than 1 million square feet of retail space, approximately 6,000 parking spaces, a neighboring shopping center, and two standalone restaurants.
Intel, the world leader in silicon innovation, develops technologies, products, and initiatives to continually advance how people work and live. Founded in 1968 to build semiconductor memory products, Intel introduced the world's first microprocessor in 1971.
King of Prussia Mall is the East Coast's premier shopping destination with over 400 stores and restaurants.
Mystic Lake Casino Hotel is the Twin Cities' only casino resort hotel and one of the Midwest's largest.
NITEK delivers comprehensive, integrated twisted pair solutions to today's security market. Security professionals worldwide use NITEK products for audio, video, data and power transmission over ordinary twisted pair cables.
Odawa Casino Resort has 1,500 ticket-in/ticket-out slots, 36 table games, over 100 plasma screen TVs and multiple dining options.
Pechanga Resort and Casino feature 2,000 state-of-the-art slot and video machines and over 160 table games.
Pixel Velocity develops, manufactures and markets the world's most advanced high-speed digital image processing products. Their revolutionary development platform integrates FPGA-based technology with
3D and 2D imaging sensors to enable real-time solutions to markets including biometrics, medical imaging and defense.
Presque Isle Downs and Casino opened in 2007 with 2,000 slot machines, four lounges and three dining areas. The facility is open year-round.
Roche Diagnostics is part of one of the world's leading research-oriented healthcare organizations - the Roche Group. Active in the fields of pharmaceuticals and diagnostics, Roche develops innovative products and services that address the prevention, diagnosis and treatment of diseases, thus enhancing well being and quality of life.
Simon Property Group, an S&P 500 company, is the largest public U.S. real estate firm and owns or has an interest in 385 properties comprising 241 million square feet of gross leasable area.
South Mountain Arena is the former name of the Richard J. Codey Arena. It is the home of the Essex Skating Club of West Orange, New Jersey and part of the Essex Country Parks system in the South Mountain Reservation.
United States Postal Service chose RG&A to deliver consulting services for their closed circuit television and digital video surveillance systems.
USDA Forest Service celebrates a century of service caring for our nation's forests and grasslands. RG&A provides Help Desk services to the USDA Forest Service.
Verizon Communications Inc. is one of the world's leading providers of communications services with more than $71 billion in annual revenue.
Visionary Solutions, Inc. of Carpinteria, California markets high quality video camera and video over IP equipment with a focus on providing customized designs to OEMs in healthcare, security, transportation and agriculture.
Winsted offers a broad line of technical furniture including standard rack cabinets, consoles, command centers, LAN/server stations and tape/media storage cabinets.